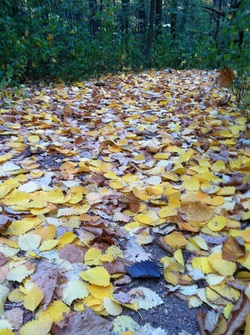 I had a rare day off this past Wednesday, and took the opportunity to complete a number of trails that a client of mine had requested I review for their publication. That day was one of the most amazing days that I have ever experienced in all of my hiking excursions.

The day started off early as the trails I needed to hit were scattered across the area. I arrived at the first set of trails around 7am. The morning light was very dim as the sun had not yet fully risen and the sky was overcast. The air was full of the smells of fall, and had that great cool, crispness that inspires one to sit in front of a campfire with a cup of cider, sharing stories between friends.

The woods were colored in amazing hues of yellow, red, orange, and brown. The coloring this year has been very intense when compared to past years. The trails were all laid out well, carpeted by the different hues of leaves that have floated down to earth. There was hardly a spot of dirt that was not covered by a fallen, colored, leaf.

Wildlife on this day was not very active, with the exception of a few chipmunks running around and a couple of hawks circling a nearby field for anything scurrying around that would make for a good breakfast. I was hoping to see much more activity than I did, but the colors everywhere more than made up for it.

The sun began to show glimpses of itself towards the end of the day, which made the forest light up into a sea of gold. All at once nature began to show itself after slumbering most of the day. I spotted a couple of foxes, a doe, some rabbits and squirrels. There were more birds than I could count or see singing away in eternal graciousness for the suns appearance this day.

The sun came too late on this day to warm things much, but its brief appearance was a spirit raising note on which to conclude a day on the trails. As we march further into October and the depths of fall, these golden sun events will become scarce as the remaining leaves fall to the forest floor and await the coming snow.